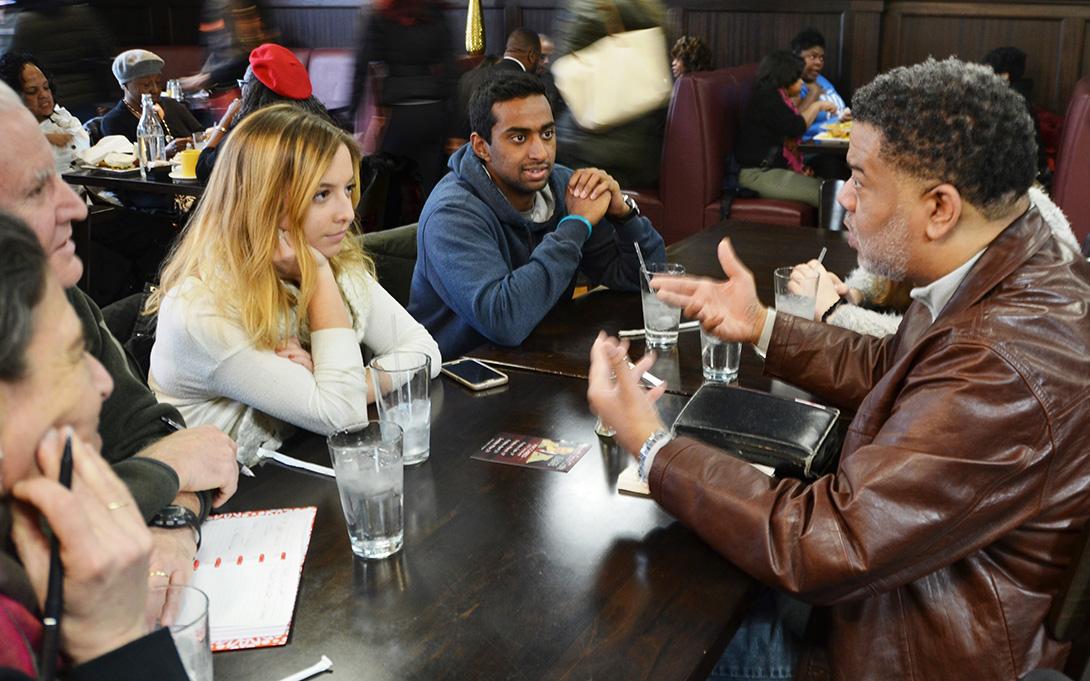 By Rebecca Cohen (MPP '09)
Two-directional learning helps small businesses and students thrive
Lily Hamburger (MBA '16) supports economic mobility for entrepreneurs as the senior director of the pandemic-born Detroit Means Business, a coalition housed at the Detroit Economic Growth Corporation and guided by a group of small business owner advisors. She works in collaboration with nonprofits, financial programs, and corporate partners to provide financial and technical assistance to small businesses. In this role, she also serves as a sounding board for the Ford School's Detroit Neighborhood Entrepreneurship Project (DNEP) and facilitates connections between businesses and student learning projects.
Hamburger says that DNEP's presence in Detroit has generated trust and new projects, such as the DNEP+Impact Studio for Local Business, which helps entrepreneurs pivot in the post-pandemic economy. During summer 2020, students and businesses worked together to produce a post-COVID resource bank for small businesses. The program evolved in 2021, with 31 students from five U-M schools using research, marketing, and financial skills from their disciplines to provide direct-to-client support to 19 local businesses.
Learning goes both ways, Hamburger explains. She coaches students to learn all they can from the creative, resourceful entrepreneurs they work with.
If you are a student at U-M, regardless of your background, there is a degree of privilege. It's important that students are aware that their perspective is not the only truth. They have to be aware of certain language and cues about what they value. We have to approach people with humility when creating policy solutions."

Lily Hamburger, senior director, Detroit Means Business
Applied learning projects address health equity
Mike Randall, the senior community impact director at the American Heart Association (AHA), wants to address social determinants of health and equity, to ultimately increase life expectancy in Michigan. For help, he's twice partnered with the Ford School's Program in Practical Policy Engagement to design semester-long projects that put Ford School students to work alongside community partners.
In 2020, for example, two Ford School students worked with Randall to research school vaping policies nationwide and develop a scoring system using AHA best practices. As kids' use of vaping products has increased, many schools have tried booting offenders from extracurricular activities or suspending them entirely. Studies show these measures don't work to eliminate tobacco use and can exacerbate other issues, including mental health challenges.
This semester, two additional students are creating a communication strategy to help AHA present best practices in hopes of influencing Michigan schools to change their policies.
Randall says he has been inspired by the students' fresh perspectives and their commitment to the work. He says he'd like to continue the partnership and explore other issues that affect disparities in health, such as food insecurity or housing.
Having the infusion of energy from students is a shot in the arm. I'm honored to work with these high caliber students on issues that matter to the American Heart Association. With the help of the students, I hope in five years we can look back and see some real policy movement in ways that change peoples' lives."

Mike Randall, senior community impact director, American Heart Association
Local government survey fills critical policymaking gap
Thirteen years ago, the Center for Local, State, and Urban Policy (CLOSUP) identified a critical information gap within the policymaking process: the perspectives of local government officials. With the help of three local government associations—the Michigan Association of Counties, Michigan Municipal League, and the Michigan Townships Association—CLOSUP researchers conceived a new survey and built a lasting partnership. Since that time, the Michigan Public Policy Survey (MPPS) has been conducted 23 times, reaching all 1,856 Michigan communities, each wave achieving at least a 70% response rate. The surveys cover a wide variety of important and timely issues, from core budget and operational policy, to the COVID-19 pandemic, trust in government, and energy and environment issues.
CLOSUP works closely with government association partners to design questions that will resonate with local officials from all areas of our diverse state. Partners serve as external advisors to help the researchers better understand the issues in practice. They also help disseminate the reports to their constituencies so that the information can be used by communities across the state.
We value what our partners bring to the table and through them, the diversity of all the local governments they represent. From Detroit to the Upper Peninsula, and everywhere in between, communities have their own separate challenges, but they are all affected by the same state government. Our partners approach policy issues differently than we do, and that is really valuable to understanding and producing better policy."

Tom Ivacko, executive director, CLOSUP
MPPS reports have been cited by 45 academic papers and five books. The research has been shared in newsletters and presentations by organizations including local chambers of commerce, Business Leaders for Michigan, Michigan's Bureau of Elections, Citizens Research Council, Michigan Association of Fire Chiefs, and the Michigan State Police.
New data leads to faster rural employment payments in India
Since 2006, India's Ministry of Rural Development has implemented the Mahatma Gandhi National Rural Employment Guarantee Scheme, a program that provides up to 100 days of paid manual labor yearly for the country's most vulnerable citizens. Ford School economist Yusuf Neggers partners with a team of academics and ministry officials to address long delays in government payments.
"In those early meetings with high-level government officials, we tried to really listen to what were their most difficult issues. Then we thought about what we could do to help them better serve the public."

Yusuf Neggers, assistant professor of public policy, Ford School of Public Policy
An established relationship with the central government provided Neggers with credibility from the beginning. He then spent months speaking with state and district level government officials, building trust and familiarity, and gathering data.
Based on survey and interview data with 75+ central, state, and local officials, he and his collaborators better understood the issues behind delayed payments. They found that officials really cared about the well-being of residents, but were also overextended. Local officials gladly participated and saw value in having their issues heard.
Subsequently, Neggers and his team created PayDash, a mobile and web-based platform that provides administrators with personalized and daily-updated information about pending payments and reduces payment time by 15%. A new grant from USAID will scale PayDash to other states and help build local capacity so states can implement it on their own.
Michigan data partnership aims to improve student outcomes
The Ford School's Education Policy Initiative (EPI) partners with the State of Michigan to manage the Michigan Education Data Center (MEDC), a secure data clearinghouse that helps researchers use Michigan's K-12 education data to answer critical questions that improve outcomes for students. When researchers apply to use the dataset they must articulate how the data will inform policy or programmatic decisions. EPI also helps state administrators build their capacity to strategically use the data to answer policy questions. EPI regularly communicates with and sends preliminary analyses to partners to help them stay on top of the issues.
We honor the partner's expertise, asking them first about what issues are important to them. Then as the data experts, we can look at the policy question from different angles, based on our understanding of the data."

Nicole Wagner Lam, associate director, Education Policy Initiative
MEDC has more than 80 active projects right now with researchers from across the country. This includes recent research by EPI co-director Kevin Stange that highlights parent demand for different types of instructional models and has provided policy-relevant information for school districts.
Data dashboard creates criminal justice transparency in Washtenaw County
In 2021, the Ford School's Poverty Solutions, U-M Law School, and the U-M School of Information lent their analysis and evaluation expertise to the Washtenaw County Prosecutor's Office to create a public dashboard of criminal justice system data. Although it is well-known that disparities within the criminal justice system drive poverty, this is a new focus area for Poverty Solutions, emerging through conversations with practitioners and stakeholders.
Very little data about the criminal justice system are available, often even to the agencies themselves. The public has limited knowledge both about the data but also about how the system works. The dashboard is the first step in providing accountability and transparency, a priority for the Washtenaw County Prosecutor's Office. Poverty Solutions has an eye on sustainability, thinking about how partners will maintain the dashboard. They also hope to partner with other Michigan counties to create new dashboards.
For the University to be an ethical partner in the community we have to think about the ways we can participate in work that extends benefits to communities. I recognize the power and privilege of the University and think about how I can extend the resources of the University in a sustainable way."

Trevor Bechtel, student engagement and strategic projects manager, Poverty Solutions
---
More in State & Hill
Below, find the full, formatted fall 2021 edition of State & Hill. Click here to return to the fall 2021 State & Hill homepage.
More news from the Ford School