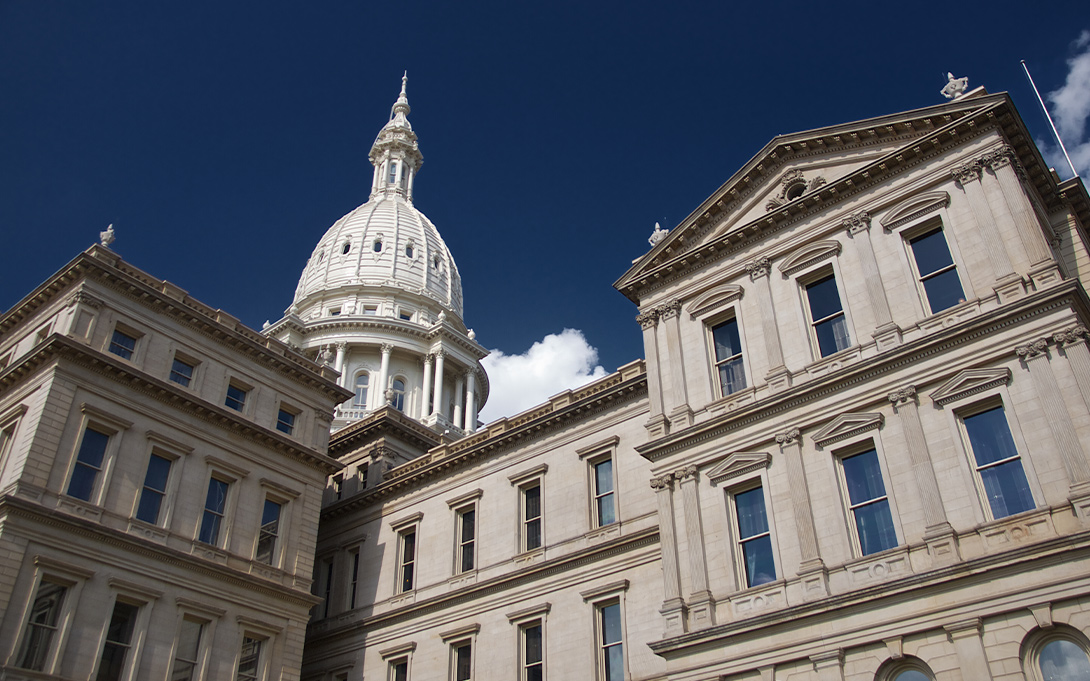 As voters in Michigan consider a ballot measure to change the state's legislative term limits, a survey of former legislators shows overwhelming support for reforming or abolishing the limits.
The survey, conducted in 2020 and 2021 by Rusty Hills, a longtime Republican Party political official who is now a lecturer at the University of Michigan's Ford School of Public Policy, with assistance from the Center for Local, State, and Urban Policy, included 110 former legislators, many of whom had been term-limited out.  
The former legislators favor reforming (67%) or even abolishing (27%) the state's legislative term limits. This is true regardless of their party identification or gender, with overwhelming support among both male and female Republican and Democratic former legislators. 
The current term limits, approved by voters in 1992, allow for three two-year terms in the state House and two four-year terms in the state Senate. Proposal 1 on the ballot this year would allow for a total of 12 years served, in any combination of chambers. That approach was most commonly mentioned as a reform suggestion in the survey. Another suggestion was to extend the terms of office themselves to reduce the amount of time campaigning for reelection.
While expressing some frustration with the current system, most of the former legislators felt they had accomplished at least some of their goals during their term-limited time in office, and most would opt to serve again, if given the opportunity.
Michigan's limits have been called among the strictest in the nation. The Citizens Research Council of Michigan published findings by researchers at Wayne State University in 2018 that identified numerous concerns about the impact of term limits, including that they had failed to achieve proponents' original goals to remove career politicians, increase the diversity of elected officials and make elections more competitive, among other shortcomings. 
Proposal 1 would also institute new financial disclosure requirements for elected state officials, addressing one of Michigan's major policy shortcomings in its current lack of such disclosure regulations.
The survey asked several questions about lessons the former legislators learned from their time in office, and how they might approach the job differently if they had the opportunity to serve again. One question asked about relationships with lobbyists and found 78% of respondents wouldn't do anything differently in spending time with lobbyists, while 16% would spend more time with lobbyists because of their greater knowledge of specific issues, and just 6% would spend less time with lobbyists because they are paid to advocate for a specific point of view and issue. 
The most common "dislikes" about their time in office included partisanship and political games, limited time in office, fundraising and reelection campaigning as well as travel, nepotism, and the influence of special interests and lobbyists. Among female former legislators, gender bias was the most common negative experience mentioned, but the wider set of most common dislikes identified above were mentioned by former legislators of all stripes, regardless of their partisan affiliation or gender.
By comparison, the most common "likes" included serving constituents, making a difference, relationships, problem-solving, and building new skills. Again, most of these were mentioned by both male and female Republican and Democratic former legislators.
"This survey underscores the desire for some change, from both sides of the aisle," Hills said. "These public servants want the legislature to work better for everybody, so their opinions and comments are particularly relevant during this election season." 
The former legislators offered extensive advice for future legislators, which covered a wide range of topics from many perspectives, including knowing the Michigan and U.S. Constitutions and the oath of office, the importance of having a good staff, not burning bridges, serving constituents in the district and being willing to compromise, among many other suggestions.
One respondent commented, "Term limits require a legislator to focus on a few issues and quickly become an expert on them in order to be effective ... by doing so, you will develop a reputation for thoroughness and colleagues will defer to your judgment."
Another suggested, "Legislators, no matter how smart or hard working, cannot begin to digest all of the information that will cross their desk every week. Your office staff, caucus staff and nonpartisan analysts are essential to your understanding of issues."
More news from the Ford School